6 ways MSME can get noticed by OEM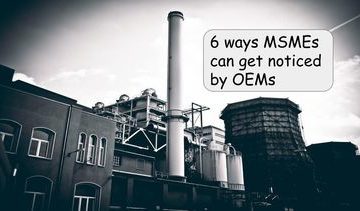 Reading Time:
3
minutes
Becoming visible to your potential customer is as important as building the best product. There are thousands of similar businesses out there and it is always critical to outstand your competitors and make your potential customers feel that you are unique. Here are 6 suggested ways for MSME (Micro Small and Medium Enterprises) to become more visible to Original Equipment Manufacturers (OEM):
1. Build your website
It is important to have a website for your business. Websites help you get discovered by OEMs. This is the only way to show the international companies that you exist. Websites also help you give a clear idea of your business to your clients. You don't always get time to explain everything when you get to meet clients. Just sharing your business card with your website address can make a drastic difference to your seller persona. Also, you can register in platforms like Google business, Just dial and Foursquare to become more visible.

2. Use third-party advertisers
Though having your website and optimizing it for search engines can get you a reach, it is important to get more reach. You can partner with companies like MSME online to get your ads published on their site which will eventually convert their visitors to your customers. Also advertising on third-party sites will increase your backlinks. Backlinks are your biggest strength when. It comes to SEO. The more backlinks you have, the higher you will be ranked on Google. The higher you are ranked on Google, the easier it will become for OEMs to find you.

3. Write relevant blogs about your business
Google crawler scans through your website whenever you make changes to it. For example, publishing a blog. The more time it crawls, the more it will recognize you. The more Google recognizes you, the more it will show you to people. Besides making Google crawl through your site, blogs also drive traffic. When you publish a blog post about the topics that are popular among people, you can dramatically increase your site traffic. When you publish useful information, people will keep coming back. They might even share your posts which can increase your popularity. Again, site traffic is another factor that can make search engines value you more. Choose the topics that the people in OEMs will be interested in. Provide them with useful information. They will automatically like you and be willing to do business with you. This is called inbound marketing.

3. Share your blogs on social media
Sharing your content on social media will exponentially increase your reach. You get incredible exposure in social media. Besides publishing in your official page, you can share your blogs in groups. This way, you will be able to reach tens of thousands of people in one go. This is easy marketing. Also, with tools like 'buffer', you can just schedule your post and relax while the automated tools publish your content.

4. Attend BNI meetings
BNI meetups are a boon if you want to network. You get to meet a lot of people from different sectors. If you choose the right BNI chapter, you can find people who are associated with OEMs. This is a good platform to exchange business cards. You can connect with them through email and LinkedIn even after your meeting to share detailed information.

5. Newsletters
Newsletters help you keep in touch with your existing customers. You can send monthly newsletters with your projects, achievements, activities and other information to keep customers updated. This will make them remember you and come back for more. Some customers might also refer you to their friends and partners. You can also send newsletters to your leads. This will be sort of a mix of outbound and inbound marketing but it will be of a great help in the conversation stage of the sales funnel.