4 reasons why engineers should work with core SMEs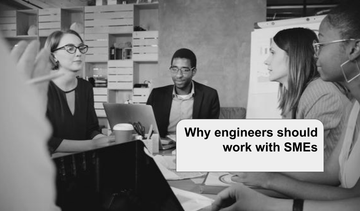 Reading Time:
2
minutes
On one side of the country we have unemployed engineers, on the other side, we have companies that don't find enough talent. Bulk resignation rates in IT companies are making headlines most of the time. All the reasons for these problems boil down to one root cause, 'most people don't love what they do'. This is especially true when it comes to Engineers in India. All the students try to place themselves in core MNCs, but only 20% get placed. The rest randomly place themselves in IT companies and eventually drop their papers in a year or two out of mere frustration. One mistake they make is not realizing that 'core companies are not just MNCs'. There are millions of small core companies which we call Small and Medium Enterprises (SMEs). Here are four reasons why engineers should work in core SMEs:

1. Experience
Working in an IT company might sound fancy but most engineers quit their jobs because of incompatibility. They just don't fit in. Working in IT companies might add some 'number of years' experience to your resume but you will actually have no expertise other than some basics in IT. But when it comes to SMEs you get to do a lot of things. Right from product development to closing sales, you will be able to learn the business inside out. Learning process stays seamless and evergreen.

2. Flexibility
Unlike the big companies that restrict you with everything right from break timings to leaves, small companies let you work in peace. You don't have to worry about taking that extra 5 minutes of lunch break. Small companies like core SMEs also have a constant team you can work with, unlike the tech giants that transfer you to different workplaces and teams at the most inconvenient times.

3. Core SMEs make you more responsible
Reporting to a manager and reporting to the owner of the company are two different things. In a small company, every activity of you will have an impact on the company's profit. So you will naturally learn to pay more attention to detail and be more responsible. Convincing an owner is harder than convincing a manager, so you always ensure making a point when you have something to say. There are fewer chances of pointlessness in core SMEs.

4. Core SMEs are a reservoir of business contacts
Right from the raw material vendors to the owners of OEMs, you will get to know a lot of people. With core SMEs you will get more contacts, more exposure and learn more things. You will become a better negotiator. This will not happen in a corporate where your cabin would be your entire world.
More than everything, it is important to love what you do. It is not a healthy practice to study something and be in a place that completely makes you forget about the genius in you. Steve Jobs said, "The only way to do great work is to love what you do".
If you are looking for job opportunities in SMEs, take a look at our jobs portal.