Global Competitiveness of SMEs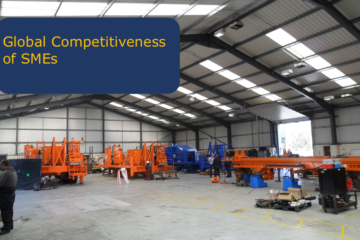 Reading Time:
3
minutes
SMEs are the Small and Medium scale Enterprises that now emerge as flag bearers for trade and economy rise. There are various positive and negative impacts that they have while competing globally. Any enterprise is classified as SME upon two broad categories, which are:
Total staff size

Total turnover of the firm
These are just the considerations, various countries may have their own inner scales such as US takes the upper limit of staff size as 500 employees, whereas some other countries take it as 200 employees to classify as SME.
Limited strength, but worldwide outreach
SMEs are restricted in their profit margins, or the size to which they can expand. Despite this, the market covered and the people benefited from resources that they offer is just countless. Scope and outreach of these enterprises benefit not just the people but the economy too.
More than 95% of the firms belong to the SME category. Being large in number, these firms offer employment opportunities in technology driven sectors. On an average, about 60-70% employment in most countries is being generated through small and medium scale enterprises.

Benefits that SMEs can gain through global competitiveness
There is no doubt that expanding wings in the global market would bring numerous benefits to SMEs and their respective economies.
Government focuses on providing sustainability to these firms, so that they can become a global competitor. Below, are the benefits that they can get on a global scale
Becoming a part of International supply chains
To become a part of International supply chains, the most convenient way is to collaborate with large companies. Usually, a direct jump into global market is challenging for small enterprises.
Better growth and profit opportunities
Opportunities to profit in global competitive environment is enormous, it only takes correct decisions and right marketing channels to enter and win it. Those enterprises that project themselves in the right path towards global market, can earn great growth and sustainability.
SMEs have limited number of employees, and geographical networks. To expand the horizon to get brighter and better results, a good network is required. When trade and exchange occurs on international level, SMEs eventually improve the social contacts and network with clients.
Risks that exist in competing globally
Global competition for SMEs is easier said than done, as the risk while entering a whole new world of possibilities cannot be denied. For instance, take the example of Indian SMEs, out of 60 million SMEs in India, only 1% of them have made it possible to enter into global trade and compete with huge number of other such firms.
Big companies could be a threat
Cooperation among SMEs and large enterprises makes it safe to compete globally. But when well established enterprises do not want any other small or medium enterprise to come into market, they can cause serious threats to them.
Trust issues in global world
The chances of becoming the victim of regional clusters among enterprises in specific locations of world are high. For instance, European countries have clusters among SMEs, and do not allow others to compete or to stay in the market. Frauds and trust issues in the global competitive market are common.
Virtual business require extensive knowledge and power
Unless there is an ample amount of knowledge and power within the enterprise, it should be cautious to compete in the international market. Virtual business and competition is risky unless well understood.
It is true that small and medium enterprises need to cross certain barriers to allow the positive and fruitful competitiveness globally. But, along with several barriers that exist, benefits that technology provide bring a boon in this competition. Global boundaries provide more strength and support to SMEs, and they should definitely strive to win laurels internationally.